Top-Notch Gas Services NYC Residents Swear By
Looking for reliable gas services NYC clients trust? Tidal Plumbing is your go-to company for all your safe gas services in Long Island and Staten Island, because we offer a wide range of gas locks services, from installation and repair to inspection. Our team of experienced and certified technicians is available 24/7 to respond to your emergencies, and we also offer a 100% satisfaction guarantee on all our workmanship and gas service.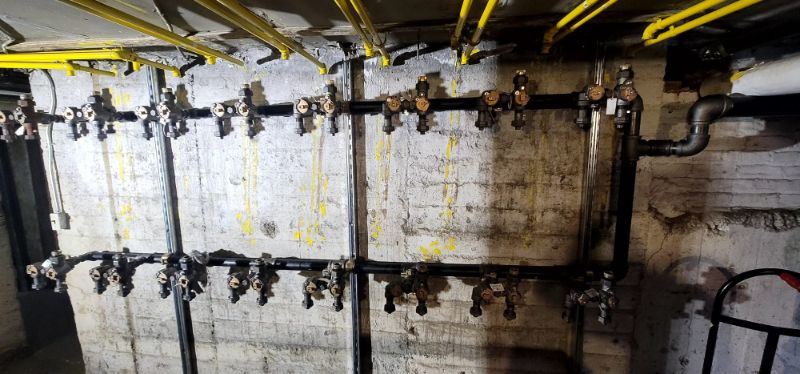 At Tidal Plumbing, our professionals pride ourselves on our honesty and trustworthiness when it comes to repairing the gas leaks NYC citizens find themselves dealing with, because we believe that these values are essential in providing the highest quality of gas, heating, and plumbing services in addition to repairing the gas leaks NYC clients may experience.
Our professionals are committed to providing honest and reliable service to our customers who are dealing with a gas leak New York residents commonly deal with. At our NYC gas company, our professionals are responsive to your needs and go out of our way to help.
We also prioritize environmental protection and take the measures that are best for your loved ones, since gas leaks can be extremely dangerous because they can cause fires, explosions, and health problems. If you smell gas, it is important to evacuate the area immediately and call an expert right away.
One of the ways you can prevent such consequences is by locking your gas, and our team also provides gas lock services by installing automatic shut-off valves to prevent your gas from flowing if there is a gas leak New York people typically deal with. This will give you peace of mind, knowing that your home is safe from the dangers of gas leaks. Security locks are made of high-security materials and provide exceptional tamper resistance and endurance, and metal security products with these characteristics were developed to offer maximum security, stronger tamper evidence, and long-term function.
Protect Yourself from the Gas Leaks NYC Clients May Face
If you suspect a gas leak in your home, it is important to be aware of the signs so that you can take action to protect yourself and your family. Gas leaks can be very dangerous and even deadly, so it is important to know what to look for. Some of the signs of a gas leak include:
– Bad Odor: This is perhaps the most well-known sign of a gas leak. If you notice this sudden and distinct odor, it is important to get out of the house immediately and call a trustworthy NYC gas company.
-Hissing or whistling sounds: Another clue that there may be a gas leak is if you hear hissing or whistling coming from any appliances or pipes in your home.
-Dead plants: If you have dead plants near where you suspect a gas leak, this could be another sign that there are high gas levels in the area.
-Increased bills: An unexpected increase in your energy bills could also be a sign of a gas leak, as it takes more energy to heat or cool your home if there is a hole in your system.
If you notice any of these signs, one of the things you can do is use gas safety products, which come in various types and provide security and are designed to be durable. If you are interested in learning more about our gas lock products, or if you have any questions in general, please do not hesitate to call our NYC gas company. Our experts will be happy to assist with any gas leak Manhattan clients may be dealing with.
Fix Any Gas Leak Manhattan Clients Face Instantly with Our Services
There are several different types of gas locks that are available on the market, and each type of gas lock has its own advantages and disadvantages, so it is important to choose the right one for your needs. Some of the different types of gas locks include:
– Mechanical gas locks: These types of gas locks are designed to be very durable and provide a high level of security, however, they can be difficult to install and may require professional help.
– Electronic gas locks: These locks are becoming increasingly popular because they are easy to install and offer a high level of security.
– Cap Lock: A cap lock assembly is a type of gas lock that is designed to be installed on the exterior of a home. It is made up of two parts: a base and a cap where the base is installed first, and then the cap is placed over it. This type of gas lock can be more difficult to install than other types so professional assistance is highly recommended.
– Wingless Gas Valve Lock: A wingless gas valve lock is a type of gas lock that is designed to be installed on the interior of a home. It has a wingless design and is made up of hard, durable steel.
– Wing Gas Valve Lock: This is made up of heavy carbon duty steel. The locking design provides added protection and is resistant to corrosion.
When choosing a gas lock, it is important to consider your needs and budget. There is no one-size-fits-all solution, so you will need to choose the gas lock that is right for you.
Affordable Repair Services for Any Gas Leak New York Residents May Face
Why Choose Us?
Certified: All of our technicians are certified and have the experience to get the job done right.
Availability: We are available 24 hours a day, 7 days a week to provide safe gas services.
Emergency services: We offer emergency gas services so that we can be there when you need us most.
Competitive rates: We offer competitive rates for our services.
Our experts work around the clock to ensure your safety and security during a fuel stop NYC customers deal with. Our experts that execute the fuel stop NYC clients occasionally need, will halt your gas supply when necessary to protect your home and equipment. We work quickly and efficiently and help our clients with turning gas back on after disconnect so they can resume life. It is vital to get professional help while turning gas back on after disconnect to ensure it's all done safely, therefore if you want any help with water utility services, our team is happy to help!