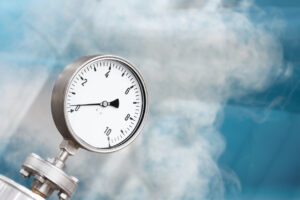 For the last 20 years, oil heat has averaged 30 to 50 percent more than gas annually. For this reason, many homeowners looking to save money on home heating costs choose to convert from oil to gas. If you're on the fence about whether or not an oil to gas conversion is right for you, here are some factors to consider.
Fuel Types Available in Your Area
Half the country currently uses natural gas to heat their homes, followed by electricity, oil and propane. These all may be more costlier options, but many homeowners don't really have a choice because that's what's readily available in their area. Most oil-burners can be found in homes in the Northeast, accounting for more than 30 percent of residential heating systems.
Natural gas is piped right into the house from a utility company, unlike oil which is delivered by trucks. If you want to make the switch from oil to gas, you'll have to have a gas main under the street in front of your house already.
Cost of Equipment and Hookup
Cost varies considerably due to location, but in general, gas-fired equipment costs less than oil-fired equipment. A basic furnace or boiler will cost between $1,500 and $3,000 for gas and between $2,000 and $8,000 for oil. You'll pay a lot more if you opt for a higher efficiency system ($3,500 to $5,500 for gas; $4,500 to $10,000 for oil). However, you could qualify for a tax credit to offset some of the cost.
The cost of connection for gas could run between $1,000 to $1,500, which entails running underground pipes from the main line to your home.
Other expenses may arise too. For example, making the switch to gas could require you to line your chimney due to the gas exhaust that could degrade the masonry work. Another added expense will involve the cost of removing your existing oil tank at an average cost of $1500. The cost could go up if your tank is buried in your yard.
The Bottom Line
You will have to consider whether it's worth it for you to spend a few thousand dollars on an oil to gas conversion, crunching the numbers on what it will save you per year. However, just keep in mind that there's no guarantee that the price of gas won't go up and the price of oil won't go down in the future. Plus, you could run into complications when converting from oil to gas in your house, which will cost you more money.
In the end, it's a highly personal decision, and one that comes with many advantages for many homeowners.
Contact Tidal Plumbing and Heating
Not sure if you are a good candidate for an oil to gas conversion? We can help, as we specialize in oil to gas conversions here at Tidal Plumbing and Heating in NYC. Contact us at 718-505-9300 today for a free consultation and quote to get you started.